By Micaela Yawney
It's Thursday June 9th, 2022 as I sit down with Beth at the table in the shared kitchen area of our hostel apartment in Medellin, Colombia. We've been travelling around the country now for almost two weeks and our time together is almost up! I first met Beth through a mutual friend during our study days at the University of Waterloo. We were scheduled for a weekend getaway between myself, her, and our mutual friend, but at the last minute, our mutual friend had a family emergency, and so the two of us, seemingly strangers at the time, decided to venture North together for a restful couple days at the cottage anyways. By the time that first weekend together was over, we had laughed, cried, and talked for hours about our lives and who we were over a cosy wood stove and No Name chocolate wafers until the wee hours of the morning. I am forever grateful for that weekend that connected me to Beth. She is kind, loyal, and empathetic with an endless capacity for love, British humour, and adventure.
Over the years since our first meeting and our graduation together from the University of Waterloo, I have watched her life change in unbelievably beautiful ways, and her career grow to new heights. I'm not sure that I've ever sat down with Beth to ask her formal questions about her career and how she got to where she is today. The conversation that transpired over our hostel kitchen table was one to remember and I am excited to share all of the wonderful details in today's article. Enjoy.
Beth's Story
On top of being an incredibly down-to-earth and amazing human being, Beth is also a powerful leader within the realms of all things sustainability, impact measurement, and impact producing. In 2020, she graduated from the University of Waterloo with a Major in Environment and Business and a Minor in Geography and Environmental Management, and moved to the land of the Lekwungen peoples, colonially known as Victoria, British Columbia.
She has been recognized as one of The Starfish Canada's Top 25 Environmentalists Under 25, one of Corporate Knights 30 Under 30 Sustainability Leaders, is a member of The Starfish Canada's Speakers Bureau Program, and is the CEO of QS World Merit, "a charity that recognizes that opportunities are not equally accessed around the world. [They] aim to give merit by rewarding people with global opportunities. [They] believe that in order to create a more equal world we need to equally distribute opportunities, especially to people in developing nations who do not receive them in the same way that the Western World does."
How do they do this? Through their SDG Impact App that measures people's impact on their own individual and community sustainable development actions in order to gain points that unlock global opportunities. The App uses the specific metrics outlined by the 17 Sustainable Development Goals (SDGs) to collect data on both individual and community impact in order to promote transparency and initiative on sustainable development. Their goal? To have one million changemakers engaged on the app by 2026! 
"What are we actually doing tangibly for the climate crisis? What are the skills that we're building out of theoretical learning that actually allows people to make a genuine impact in their community?"
Beth is a value-based person, and when it comes to leading QS World Merit, it is no different. The top three values that she focuses on as a CEO are authenticity, integrity, and transparency. Recognizing that there is a need for transparency when it comes to climate issues, she leads with a transparent approach in order to promote the tangible actions that QS World Merit takes on a daily basis to tackle the climate crisis.
"I really think being a value-minded person is important in the world that we have, full of capitalist agendas, because we need to stay true to what we believe and what we would like to see in people and in the world in general."
On top of being a CEO, Beth is also involved in impact producing. Last year, she launched the Salmon Parks Documentary alongside Vancouver-based, Canadian Film Director, Carter Kirilenko, the British Columbia Canadian Parks and Wilderness Society (CPAWS), Muwač̓atḥ (Mowachaht/Muchalaht) and Nuchatlaht First Nations, as well as the Nuu-Chah-Nulth Tribal Council. The goal through making the film was to get BC governments to recognize Salmon Parks as a protected area(s) for Nootka Sound's wild salmon.
Beyond her work, Beth really values alone time, inner peace, mindfulness, and long walks outdoors with her puppy, Juniper. Time outdoors reminds Beth of her "why".
"After a hard day of trying to push forward an agenda that others don't believe in, I need to re-energize myself and rejuvenate. I go outside and I see the beauty in nature and I am reminded of my why. I want to protect this. I need this. This is what brings me hope. This is what brings me mindfulness. That's why I love this work so much."
Connection to the Sustainable Development Goals 
Beth has been using the SDGs as a framework for impact for both her life and career since she was thirteen and first attended the United Nations. She has worked with both the Millennium Development Goals as well as the 17 SDGs on a variety of projects, including her work with the UN Sustainable Development Solutions Network.
"The SDGs have given me a framework to do good for the world and progress issues such as climate action."
The SDG that Beth most aligns with though is SDG 13, Climate Action, specifically target 13.3, "Improve education, awareness-raising and human and institutional capacity on climate change mitigation, adaptation, impact reduction and early warning" (United Nations). To her, it's all about knowledge as well as capacity-building in order to foster the skills that we need to transition to a clean and just future. The post-climate crisis world is going to look completely different to the one that we have now, and Beth is focused on educating and supporting a generation of changemakers who will have the skills necessary to build and succeed in that new world.
Reimagining a New World 
When asked about the importance of youth empowerment and climate action, Beth responded by saying that it's important because:
"…they're our future leaders and they're going to have to not only clean up the mess that's been made but also rethink and recreate a new future."
How? Beth believes in building skills and talent in young people that are focused on a regenerative future, not building the same future or sustaining what we already have. This means reimagining a new future, a new world, with innovation and creativity as the foundation, and youth at the forefront of leading this work.
What is the new world that we are creating? What are we reimagining? How can we innovate, think, and build creatively in order to get there? These are questions that Beth thinks about when it comes to the importance of youth empowerment and climate action.
"Regeneration: 
Renewal. Revival. Rebirth. Regrowth. Powers of processes causing something to heal" 
(Collins Dictionary).
Two Pieces of Advice 
Beth has two pieces of advice for people looking to get involved in the sustainability movement.
They are:
Learn about how climate relates to funding.
Learn about how governments relate to climate.
Why? Because Beth believes that in order to create solutions to the catastrophic crisis that we are currently in, the distribution of money in the world needs to shift from the most corrupt governments, industries, and corporations, to the agendas of those who are focused on radical climate action.
"We need to drive funds to what actually matters and put our money where our mouth is. There has to be a shift in how people are funding change."
She recommends getting a really good grasp on funding and how money is distributed within the world in order to be successful in this movement. Know where your money is going and if you don't agree with it, rethink and reinvest in the movements and flow of money that are focused on the climate agenda.
"Get educated. Don't be scared to learn. No one is perfect. No one knows everything. Sustainability is constantly growing and developing and it is our responsibility to stay up-to-date on what's happening in the world."
Beth also credits Twitter and LinkedIn as great places to learn about and engage in discussions on these important topics. She follows different researchers and academics on both platforms to stay up-to-date and engaged. Beth's final piece of advice is to just begin!
"Don't be afraid to start something. It's never too late to make a change and make an impact. We're running out of time! Just do something. You're never going to regret trying and you're always going to learn from failing."
Funded by the Government of Canada's Sustainable Development Goals Program.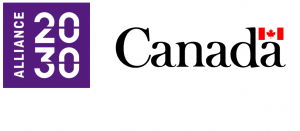 ---
This article was written by Micaela Yawney (she/her), Editor-in-Chief at The Starfish Canada, on the lands of the Quechua and Wari peoples, colonially known as Lima, Peru. Endless gratitude to Beth for allowing us to share your story in today's article. You can find Beth on Instagram at 
@betheden_
 and on Twitter at  
@BethEden_
. To learn more about QS World Merit, please go to 
https://qsworldmerit.org/
. To learn about the Salmon Parks Documentary, please visit 
https://www.salmonparks.ca/
.
Sources: