By  Aish Ravi Shankar
The Starfish Canada's Editor-in-Chief, Micaela Yawney, had the pleasure of sitting down and chatting with Abhay Sachal, one of 2017's Top 25 Environmentalists Under 25 and an avid member of The Starfish Canada community, to discuss his journey within the sustainability movement. He has served as a Top 25 Judge and Speaker on Environmental Education and Diversity in Environmentalism for The Starfish Canada's Speakers Bureau Program. Abhay is originally from the traditional lands of the Semiahmoo, Katzie, Kwikwetlem, Kwantlen, Qayqayt and Tsawwassen First Nations, colonially known as Surrey, British Columbia, and is starting his fourth year at the University of Toronto where he studies Global Health and Peace Conflict in Justice. He is also the Founder and Executive Director of Break the Divide, an organization dedicated to fostering action on topics such as climate change and mental health. In his spare time he plays the piano and intramural hockey. Abhay's currently stationed in Malawi where he is a Research Assistant for Chúk Odenigbo, another previous Top 25 Under 25 Winner and current Top 25 Under 25 Judge, where they are researching how physical geography and space played a role in Malawi's COVID-19 response.
Where it All Started
When asked about what drives his passion for environmentalism, he credits his connection to nature while growing up in British Columbia.
"Growing up in BC, you got the mountains, you got the water, you got the forest. My earliest memories of being in parks in BC is with my dad on rainy misty days when we would go for morning walks. I think that really grounded my connection to the environment." 
His passion continued to bloom during late elementary school where he was able to learn more about climate change and its impact on the environment. In 2016, he was a part of the Students on Ice Foundation and was shocked to see that not only was climate change happening right now in Canada, but, like many people, he didn't know about it. He saw the direct impacts of climate change in the Arctic and very quickly realized that it is a real issue impacting real people today. He also realized that climate change is a 'people issue' just as much as it is a scientific one and began to take action!
"Climate is people and the environment is people because we are so connected to our environments."
When he got back from his trip, he wanted to spark important conversations about climate change and climate action, but found that a lot of people didn't understand.  He wondered whether it was the language he was using, the way he was communicating his concerns, or the level of disconnection that people felt from these issues. He wanted to virtually connect students  from his high school to students in the Arctic so that they could connect and discuss 'face-to-face' on the issues facing their communities. In January 2017, he established a relationship between his high school in Surrey, British Columbia and a high school in Inuvik, Northwest Territories. Students at his high school learned about how the permafrost and sea ice is melting at unsustainable rates and unpredictable patterns, and how this is causing Elders to  get injured when they go out hunting. The students in Inuvik learned about some of the issues faced in Surrey such as integration, immigration, race, and gun violence. Climate change became a local problem and it allowed students from both communities to be more empowered to take action.
"Break the Divide started with that model, by connecting two different communities, with the goal of taking you from a place of apathy or disconnection, using conversation to get you to a point of empathy and connection and using that empathy to catalyze real action." 
Break the Divide
Break the Divide focuses on reducing geographic barriers to connection as well as the stigma that surrounds discussions on climate change and mental health. The organization does this by facilitating and providing both pathways and resources for these important conversations to be held in a safe and personalized way. Through these conversations, his team at Break the Divide takes people from a stage of apathy to a stage of action. Since the start of his organization in 2017, Break the Divide has expanded their workshops to different schools and communities around the world, connecting youth internationally on issues connected to mental health and climate change. Break the Divide focuses on personalized quality education with associations to a range of the 17 Sustainable Development Goals including SDG 3, Good Health and Well-being, SDG 6, Clean Water and Sanitation, SDG 13, Climate Action, and SDG 17, Partnerships for the Goals.
A Willingness to Learn 
When asked why youth empowerment is important in gaining traction on climate change, Abhay replied by saying that youth bring a unique knowledge that is centered in a deep willingness to learn, get creative, and be open minded when discussing and developing solutions to this important crisis.
"There is a practical advantage and benefit to involving youth, because those perspectives that youth provide are the ones that will push us in the direction that emboldens us to have courage to take action in ways other groups may not."
His experience working with youth through The Starfish Canada's Speaker's Bureau program, helped him see the direct impacts of climate anxiety on youth.
"Kids as young as 6 or 7, are like 'yeah, I'm worried about the future, I'm anxious.' and it's disheartening that a lot of these young people are discovering more about the world but with the already existing burden of climate change." 
It is evident through these experiences with youth, that they are directly impacted by the effects of climate change and deserve to be included in the important conversations about the climate crisis. When the issue of climate change is brought up it is important to have the people the most impacted at the forefront and youth are at that front.
Abhay's Advice
When asked what advice he would give to youth trying to get involved in the sustainability movement, he responded by saying that people need to do what they are passionate about! Everyone has their own experiences and identities that make them individuals. For him, he loved public speaking so he started doing presentations at his elementary school on climate change. Another piece of advice given was on community. He suggested figuring out what community it is that you come from and what communities claim you. He continues by saying, how individuals approach the journey, including the difficulties, the setbacks, and having a layer of self-understanding is important as well.
"This work starts with a lens of self-reflection."
Abhay's work with Break the Divide is inspiring people to take action on climate change in not only his community in Surrey, British Columbia, but communities across the globe. He is bridging the gap between mental health and climate change by giving more youth the resources required to foster those important conversations. I hope he's inspired you to break those divides and take action!
"The work starts internally. Embrace who you are in the process. It is a lot easier to do this work when you are genuine to who you are."
Funded by the Government of Canada's Sustainable Development Goals Program.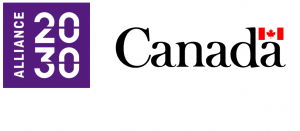 This article was written by Aish Ravi Shankar (she/her), Editorial Program Manager at The Starfish Canada, on the lands of the Anishinaabe, the Haudenosaunee, and the Mississaugas of the Credit River, colonially known as Toronto, Ontario. Endless gratitude to Abhay for allowing us to share your story in today's article. You can find Abhay on Instagram at @abhaysachal and @breakthedivide. To learn more about Break the Divide, please visit http://breakthedivide.net/.