Queen Elizabeth Scholar Tashi Lhamo recently participated in the 2018 Students on Ice expedition through the Canadian and Greenlandic Arctic and came away with a deepened appreciation and understanding of the natural environment and the people who live there. By following a holistic approach to learning, Tashi discovered the interconnected nature of ocean literacy, climate change, truth and reconciliation and the Sustainable Development Goals. What follows are lessons she learned along her journey.
It has been a few months since I was on the 2018 Students on Ice (SOI) Arctic expedition and I am still unpacking all that I experienced and learned. Because of this trip, I hope to travel to other parts of Canada and visit more of our incredible national parks in the near future. I plan to study emergency and disaster management in graduate school in hopes of continuing my learning and involvement from this trip. The expedition, I feel, is going to be a lifelong learning experience for me and though the experience left every one of us "cracked wide open", we are indeed all the better because of it.
I would like to express my deepest gratitude to Students on Ice and the Queen Elizabeth Scholars program for making this trip possible. Thank you to Katie Boomgardt, International Development Studies Program Coordinator at University of Toronto Scarborough and the entire faculty for this incredible opportunity. Below, I share some of my key takeaways from the expedition.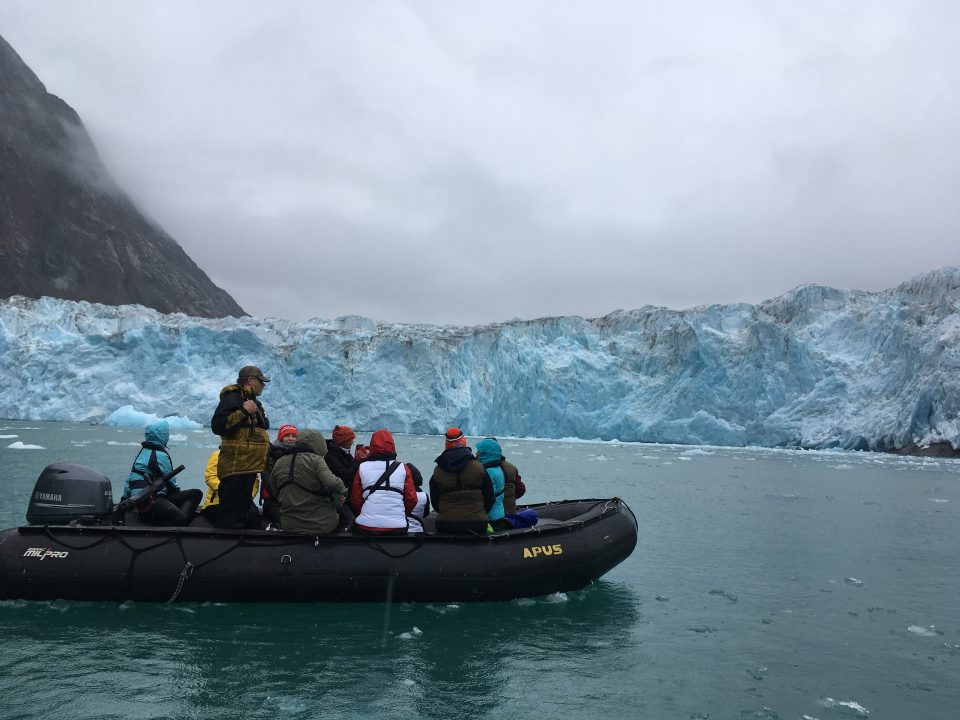 Ocean literacy: Moving ocean literacy beyond classroom curriculum learning is critical in light of climate change. Ocean health is inextricably linked to our wellbeing and our socio-economic development in the long run. From individual acts of sustainable consumption to developing a culture of corporate social responsibility for industries in line with ocean conservation efforts, we all have a role to play.
Climate change: Climate change in the Arctic and global climate change are interlinked. We cannot ignore the fact that global action on climate change – from mitigation to developing comprehensive adaptation strategies –  is a matter of urgency. Addressing climate change and its impacts should be prioritized within our communities, industries, institutions and government in order to inspire collective action.
Truth and reconciliation: Climate change adaptation in the Arctic is contingent on meaningful partnership with Indigenous people, as climate change will amplify existing vulnerabilities on the ground.1 The Indigenous participants on Students on Ice explained that for them, truth and reconciliation means forming and maintaining respectful relationships with the Indigenous community. Moving forward, imperatives of economic development with industrial development on Indigenous land must recognize and uphold Indigenous rights, abide by strict environmental standards and regulations. The Inuit elders and youth on board expressed the need for meaningful consultation and partnership, taking into consideration the procedural inequities at the negotiation table and respecting the culture, tradition and Indigenous livelihoods dependent on these lands.
The perceived dichotomy between environmental and economic interests, Inuit Qaujimajatuqangit (traditional Inuit knowledge) and western/scientific knowledge is slowly fading. There exists a growing area of collaboration between these domains to better understand the impacts of climate change and to help develop effective adaptation strategies in the Arctic region.
The Sustainable Development Goals: The 2030 Agenda for Sustainable Development aiming to implement the UN 17 Sustainable Development Goals is a monumental framework of action for sustainable and equitable development with a "leave no one behind" approach.2  Goal 13, Climate Action, is critical for addressing and mitigating climate change. This ambitious undertaking however needs firm commitment and critical self-evaluation of its progresses and limitations as recent reports indicated that the government is unprepared to meet its SDG targets.3
References
AMAP. (2018). Adaptation Actions for a Changing Arctic: Perspectives from the Baffin Bay/Davis Strait Region. Arctic Monitoring and Assessment Programme (AMAP), Oslo, Norway. xvi + 354pp.

Government of Canada. (2017).

The 2030 Agenda for Sustainable Development

. Retrieved from

http://international.gc.ca/world-monde/issues_development-enjeux_developpement/priorities-priorites/agenda-programme.aspx?lang=eng
Sanchez, Julia., Vaughn, Scott. (2018). Time for Canada to Act on the Sustainable Development Goals. Alliance 2030. Retrieved from https://alliance2030.ca/time-canada-act-sustainable-development-goals/