By Candies Kotchapaw
The G20 Young Entrepreneurs Alliance (YEA) Summit took place in Hamburg, Germany from October 27-28, 2022. This year's theme was "Safe Harbors – Peace and Sustainability through Entrepreneurship." With more than 500,000 young entrepreneurs worldwide, the G20 YEA is an ecosystem for collective youth engagement and thought leadership on the global stage, to shape and guide the landscape and outlook of international and domestic business development and entrepreneurship policies." The major outcome of this summit is to produce a Communiqué.
The Communiqué is the official policy recommendations document that is handed over to the leaders of the twenty most economically powerful countries in the world. Ahead of this document handover, representatives of each delegation meet over a series of months to work on a streamlined set of policy priorities. Taskforce leads are selected to help as focal points for their delegation, and work closely with the country Sherpa to help to negotiate the key messaging and recommendations to be included in the Communiqué. Given this year's geo-political environment and the economic turbulence it has created globally along with the uneven global recovery from the COVID-19 pandemic, peace and sustainability through entrepreneurship was a fitting thematic focus for the Hamburg Summit. The three policy priorities of the Communiqué includes:
– Economic sustainability – Innovation and Economic Development
– Social Sustainability and Peace-building – Inclusion and Equal Opportunities
– Environmental Sustainability – Climate and Energy
As inclusion and equal opportunities was an overarching theme for the Communiqué, it was important to explore the existing mechanisms internationally that already position the concepts of equity and diversity of thought and lived experiences for the full participation of all institutions, sectors and communities working together to advance that mission. In 2015, The 193-member states (countries) of the United Nations established seventeen Sustainable
Development Goals to be operationalized in each country across the world. These goals cover social issues ranging from eradicating poverty, innovation for sustainable development, addressing the climate change crisis to dismantling systemic discrimination and racism at the institutional levels. These seventeen goals also provide a range of public, private and community-based policy intervention priorities that require a collaborative cross-sectoral approach to achieving these goals in a domestic context.
Reflections from a Canadian context
As a 2022 Canadian taskforce lead on the Social Sustainability and Peace-building – Inclusion and Equal Opportunities track, I had the responsibility of summarizing the equity and inclusion concerns of young entrepreneurs. These inclusion and equity priorities featured an intentional focus on "Intersectional representation in promoting full participation of underserved communities; Reduced "Red tape" and bureaucracy in accessing capital and Wraparound services."
Representing the nonprofit sector in this environment was both daunting and invigorating at the same time. Given the challenges facing nonprofits especially post-pandemic, finding ways to open conversations about access to capital, reducing red-tape and prioritizing the participation of underserved communities, necessarily required a shift not only in the way I represented the sector in the business world, but also how I positioned the demands for sustainable infrastructure development in a progressively changing world and economy. During the delegation visit to the Canadian Embassy in Berlin, one of the presenters spoke about subsidies available for the very strong Start-up ecosystem in Germany. I had the opportunity to ask a question about economic planning to bring the nonprofit sector up to par with the standard supports available to entrepreneurs. Currently however, although Germany has a lot of nonprofits especially
working to address social challenges, there are no subsidies or financial infrastructure that exists for the nonprofit sector to merge or collaborate with entrepreneurs. Instinctively I realized that the YEA summit was the business case for adapting and aligning process and "products" for not only goal attainment progress on Communiqué priorities, but also on strategic planning for what the nonprofit sector should and will look like given the trajectory towards social impact
investments and the shift away from traditional charitable giving partnerships.
Applying the SDGs in the nonprofit sector
Using the SDGs as a foregone agreed upon accountability and measurement mechanism, nonprofits who provide services to underrepresented communities, those who historically have challenges accessing sustainable funding and navigating overly complex and discriminatory systemic processes can begin to eradicate inequities within and amongst organizations.
For context, all seventeen SDGs are interconnected and build upon their priorities successively. However, given the breadth and width of services within Canada's nonprofit space, I saw the opportunity to specifically apply the following SDGs to the strategic planning for the sector that aligns with the results focused 2030 Agenda.
SDG 1 – "End poverty in all its forms everywhere."
Structural racism and discrimination against communities of Colour, gender, neurodiverse and differently abled people in society continues to be a significant barrier to advancement within the nonprofit space. BIPOC nonprofits especially have been sounding the alarm about the economic injustice we face, as we are tasked with responding to these challenges while being pervasively underfunded and inadequately resourced for sustainability. The realities of the funding dearth facing the nonprofit sector is counterintuitive to the priorities and goal achievement of this SDG. Goal 1 calls upon all sectors including governments, private institutions, Academia and civil society to assess poverty in all its forms (lack of access to capital – funding -, barriers to relationship building with key stakeholders and decision-makers and address historically nuanced systemic barriers to participation and representation for underserved communities). To achieve the intent and spirit of this goal, Canadian nonprofits and those in authority working to change the impoverished narrative of the sector are necessarily mandated to evaluate poverty in the social context with a business lens in order to develop robust and equitable solutions.
Goal 9 – "Industry, Innovation and Infrastructure."
This goal is all encompassing for the sector, as it takes into account the environmental, social sustainability, equitable economic recovery, adaptation to and mitigation of the impacts of Climate Change in the overall push for sustainable development now and for the future. Goal 9 is the business case that nonprofits are required to strategize alongside in order to ensure we are agile in the face of ongoing and perpetual economic turbulence, industry unpredictability and fluctuations of political will. Nonprofits should be planning towards what "products" they are offering, as a mechanism to encourage sustainable investments, rather than depending on the seemingly altruistic nature and discriminatory value-laded context of funding that we are currently existing within.
Goal 16 – "Peace, justice and strong institutions."
This goal is incredibly significant in ensuring that underrepresented communities have equitable access to the resources needed for continuity of service provision, sustainable infrastructure development and capacity-building. Consideration on the experience of racialized communities with financial institutions, government funding application processes as well as access to supportive networks and allies is integral to the achievement of this equity-based goal. Given the appetite to "build back better" that is focused on leveling the playing field by informing existing policies from a Gender Based Analysis+ perspective, as well as a feminist recovery framework, Goal 16 provides a very responsive blueprint to how nonprofits should be aligning with this goal for favourable outcomes for all.
Goal 17 – "Partnerships to achieve the goals."
For the sector, this goal is essential to achieving the priorities of Agenda 2030. The commitment of industry, government, communities, academia and individuals working together equitably in recognition of each stakeholder's value proposition is vital. The nonprofit sector is a kaleidoscope of skills, expertise and approaches to delivering services to diverse communities; therefore the same level of diversity of thought, approaches and influence is required to move the sector forward.
Positioning the sector for investments
The SDGs give the nonprofit sector a well-needed update of creative and adaptive approaches to addressing social challenges in marketable ways. Through alignments with corporate, government and philanthropic priorities, nonprofits can rebrand their existing and emerging services as "products" enabling a quantitative mutual benefit that will drive investments of capital and needed resources being directed back into the sector. The expansion of SDG 16 to include equitable access to legislative, economic and environmental justice for marginalized and underrepresented communities creates a broad canvas for the sector to work with. Organizations and institutions working to address overrepresentation of racialized people in the criminal justice and legal system can highlight the indicators and targets of the Goal alongside other interconnected Goals towards equity. Similarly, organizations working to advance economic justice including access to safe and affordable housing, decent work and innovation for necessary skills acquisition to meet the changing demands of the labour market can look to this Goal along with Goal 9 and 17.
Fundamentally, as young Canadians are most impacted by structural decision-making now and for the future, organizations who provide services to youth, including those targeting mental health supports, employment skills development and those in the environmental justice space must have an in-depth understanding of all 17 SDGs in order to best position the sector for responsive strategic planning.
The Last word on putting the SDGs to work
Currently there is no universality in the application of the SDGs in the nonprofit sector. As a positive consequence of my experience at the Hamburg summit, I believe that the way forward for the sector is to adopt a universal standards approach towards the achievement of the SDGs. This means that targets and indicators that match the realities of the sector need to be identified through consultations with nonprofits and charitable organizaitons and once agreed upon, can be merged into the fabric of the sector from a social impact perspective, with progress reports at intervals that are equal to Agenda 2030. This uniformed approach for the sector will ensure that no organization will get left behind, while also
putting pressure on all stakeholders to view sustainability in a holistic manner for the betterment of all.
---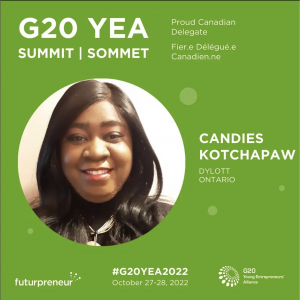 About the Author
Candies Kotchapaw is the Founder and Executive Director at DYLOTT. Developing Young Leaders of Tomorrow, Today (DYLOTT) is an organization developed by Candies Kotchapaw, a visionary leader in the Black community. Candies, while completing her Master's of Social Work specializing in Policy Practice at York University, identified the precarious experience of Black Social Workers and the need for their inclusion in policy development. Coupled with her several years of experience facilitating grassroots youth work and Candies' identification of precariousness in several other employment areas, DYLOTT was formally founded in 2019.