The climate crisis is a complex, multi-faceted challenge. There are countless intersections between climate change and a range of other issues such as poverty, hunger, equality, employment, and sustainable land and water. The 
Sustainable Development Goals
 (SDGs) provide a useful framework for unpacking these linkages.
This two-part series explores the interconnections between 
SDG 13: Climate Action
 and other goals, through 10 articles by diverse community changemakers across Canada. Covering a wide range of topics from refugee education and healing justice to energy efficiency and circular economy, this series draws on a wide range of knowledge and lived experience.
The pieces and authors profiled in this series are:
Part 1 | Transforming People & Places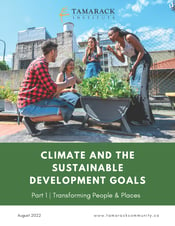 Breathing and existing in the intersectionality of climate and community actions – Elissama Menezes
How planetary health and healing justice can stimulate local climate action – Chiara Camponeschi
Three ways to support refugee education in Canada – Jennifer Lerus-Roulez
How the settlement sector can support refugees with adaptive tools to create stronger, more vibrant communities – May Massijeh
Getting to climate action in our communities starts with finding our way home – Astrid Arumae
Growing green infrastructure and community health with urban forests – Matthew Carreau
Part 2 | Transforming Energy, Jobs & Industry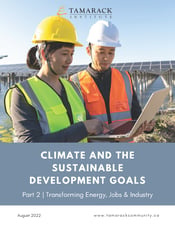 Climate policies make energy more affordable: energy efficiency for low-income households – Hannah Muhajarine
The challenges of transitioning to electric vehicles in Canada – Jill Mills
Green jobs: the intersection of climate change and unemployment – Pragya Dawadi
From 'take-make-waste' to a circular and regenerative economy – Matthew Carreau
To view this blog post online, visit: https://www.tamarackcommunity.ca/latest/climate-and-the-sdgs